The Three Little Aliens and the Big Bad Robot
Margaret McNamara & Mark Fearing
This book can be downloaded and read in Apple Books on your Mac or iOS device.
Description
GREEP BOINK MEEP! The three little aliens are happily settling into their new homes when the Big Bad Robot flies in to crack and smack and whack their houses down! A chase across the solar system follows in this out-of-this-world version of the classic Three Little Pigs tale. Margaret McNamara (How Many Seeds in a Pumpkin?) and Mark Fearing (The Book that Eats People) have created a humorous and visually stunning story that kids will adore—and that will introduce them to the planets and the solar system. The endpapers even include a labeled diagram of all the planets.
From Publishers Weekly
Jul 04, 2011 –
This boisterous galactic retelling of "The Three Little Pigs" pits resourceful pea-green alien children against a skyscraper-size robot. Siblings Bork, Gork, and Nklxwcyz live with their mother "in a snug, cozy crater on a tiny little planet." When their home " too crowded," the kids head into the solar system to seek new abodes. Two-eyed sister Bork finds an unmanned rover on a red planet ("Awesome!"). Her one-eyed brother Gork boards a satellite spinning around a ringed planet ("Whee!"). Three-eyed Nklxwcyz prefers a planet with "thirteen moons, and refreshing breezes." Soon the Big Bad Robot chases Bork to Gork's home; recalling their mother's advice to "stick together," they fly to Nklxwcyz's brick house. Fearing's (The Book That Eats People) collages lend a down-to-earth feel to the interplanetary action. McNamara (How Many Seeds in a Pumpkin?) is faithful to the original story, down to the climactic chimney, but has bountiful fun along the way (" Little alien! Little alien!' bleeped the Robot. Pull over! Pull over!' "). This is no astronomy class, but readers can guess the unnamed planets by description, and they'll have fun pronouncing Nklxwcyz. Ages 4 8.
Screenshots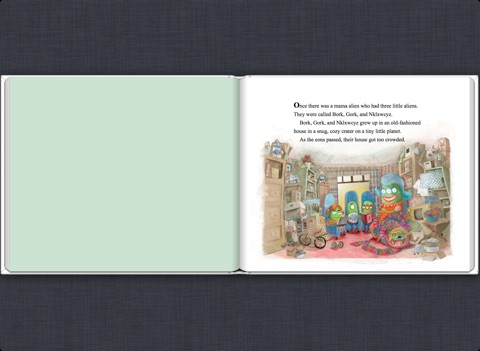 Customer Reviews
Bummed
My daughter was very excited to get this book after seeing it at her school bookfair. So, when I saw it on iBooks I thought I'd surprise her. We downloaded it, at least I thought...got all ready to read it before bed, only to discover only two pages of the story downloaded, in addition to the cover pages and the last page asking for reviews! Needless to say, I hope this problem gets fixed so we can enjoy what looks like a cool story!
The three little aliens and the big bad robot
Do not get this book. I did not see the other review until after purchasing it. Only 10 pages were downloaded. Thanks for the disappointment.
View in iTunes
$8.99

Category: Fantasy
Published: Sep 27, 2011
Publisher: Random House Children's Books
Seller: Penguin Random House LLC
Print Length: 40 Pages
Language: English
More by Margaret McNamara & Mark Fearing