The Titan's Curse (Percy Jackson and the Olympians, Book 3)
Book 3, Percy Jackson and the Olympians
Rick Riordan
This book can be downloaded and read in iBooks on your Mac or iOS device.
Description
When the goddess Artemis goes missing, she is believed to have been kidnapped. And now it's up to Percy and his friends to find out what happened. Who is powerful enough to kidnap a goddess?
From Publishers Weekly
May 18, 2009 –
Percy Jackson s fifth and final adventure begins with a blast and gets increasingly more explosive. It reads less like a novel than a 400-page battle scene set in Manhattan, pitting Percy, Annabeth, Grover & Co. against a pantheon of monsters intent on reaching the portal to Mount Olympus (located on the 600th floor of the Empire State Building). In other words: fans will not be disappointed. All the action takes place in the days before Percy s 16th birthday, on which a prophecy has foretold a single choice shall end his days. Readers who have watched their dyslexic hero grow into his considerable powers since age 12 will not be surprised by his brave leadership. Or as Percy, facing the Minotaur s army, puts it in typically wry fashion: It was now roughly one hundred and ninety-nine to one. I did the natural thing. I charged them. Details about Luke s childhood explain his traitorous allegiance to Kronos; Annabeth and Rachel Dare vie for Percy s attention; and the final clash would keep a Hollywood special effects team busy for years. As the capstone to this beloved series, this story satisfies. And a surprise character takes on the mantle of Oracle, instantly issuing a new prophecy that suggests, happily, there s more fun with the demigods to come. Ages 10 up.
Screenshots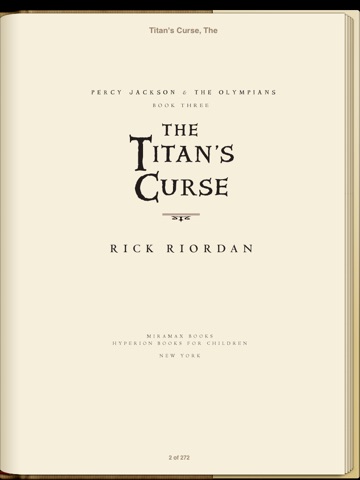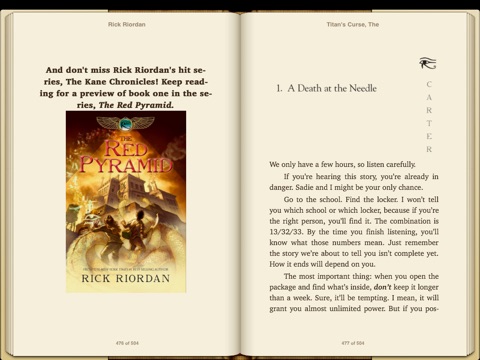 Customer Reviews
Just as good as the first two
Loved it! The di Angelo kids were a excellent add to the series. I'm glad they put the hunters, atriums, Apollo were glad to in this book. Love Rachel. Exiting how thila becomes a HUNTER!!!
Awesomness
I have not read the book yet but I know it will be goodn
View in iTunes
$6.99

Category: Action & Adventure
Published: May 02, 2009
Publisher: Disney Book Group
Seller: Disney Publishing Worldwide
Print Length: 318 Pages
Language: English
Series: Book 3, Percy Jackson and the Olympians