The Whole30
The 30-Day Guide to Total Health and Food Freedom
Melissa Hartwig & Dallas Hartwig
This book can be downloaded and read in iBooks on your Mac or iOS device.
Description
Millions of people visit Whole30.com every month and share their stories of weight loss and lifestyle makeovers. Hundreds of thousands of them have read It Starts With Food, which explains the science behind the program. At last, The Whole30 provides the step-by-step, recipe-by-recipe guidebook that will allow millions of people to experience the transformation of their entire life in just one month.

Melissa and Dallas Hartwig's critically-acclaimed Whole30 program has helped hundreds of thousands of people transform how they think about their food, bodies, and lives. Their approach leads to effortless weight loss and better health—along with stunning improvements in sleep quality, energy levels, mood, and self-esteem. Their first book, the New York Times best-selling It Starts With Food, explained the science behind their life-changing program. Now they bring you The Whole30, a stand-alone, step-by-step plan to break unhealthy habits, reduce cravings, improve digestion, and strengthen your immune system. The Whole30 features more than 100 chef-developed recipes, like Chimichurri Beef Kabobs and Halibut with Citrus Ginger Glaze, designed to build your confidence in the kitchen and inspire your taste buds. The book also includes real-life success stories, community resources, and an extensive FAQ to give you the support you need on your journey to "food freedom."
From Publishers Weekly
May 25, 2015 –
The Hartwigs (It Starts with Food) are certified sports nutritionists and the creators of the Whole30 program, a regimen designed to transform how readers think about food, their bodies, and their lives. Their new book offers step-by-step guidance to help readers implement the Whole30 plan. The key to the success of their plan, the Hartwigs state, is the complete elimination of foods and beverages such as peanuts, soy, milk, and grains. The benefits, they claim, are significant, including restoring hormonal balance, regulating blood sugar, and eliminating the symptoms of inflammation. They offer a timeline that describes each stage of the Whole30 right through to the reintroduction of some off-plan foods. They also offer an informative FAQ section and help readers through the pitfalls of dining out and traveling. The second half of the book is devoted to recipes, including stuffed peppers and seared salmon benedict, that utilize fresh ingredients and easy cooking techniques. Their offerings for satisfying meals include braised beef brisket and grilled coconut curry chicken. Butternut squash with kale and Swiss chard, cauliflower rice, and roasted spaghetti squash highlight a robust side dish chapter. Sauces, one-pot meals, and holiday meals round out an appetizing collection that can be used on and off the plan. For those interested in trying the Whole30, this book is an invaluable guide that shouldn't be overlooked.
What's New in Version 2.0
Screenshots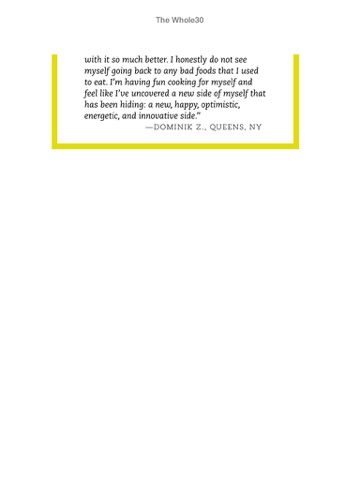 Customer Reviews
Where are the reviews?
I'm deciding right now to never buy anything through iBooks because the reviews are all hidden. Kindle, here I come!
Love this book
This book is both an intro to Whole30, and a Whole30 recipe book. While I know how to cook, I still found the section which details mundane cooking titles (perfect poached eggs, perfect seared chicken breast, etc.) helpful. The Hollandaise and Mayonnaise recipes are the easiest I've ever made. I have made walnut-crusted pork tenderloin, chili, baby back ribs with tangy bbq sauce, stuffed peppers, shepard's pie, and a few others. I found them all pretty easy to make, and delicious. This review is of the hard-cover version I own.
Bought & paid for but can't open?!?
Waist of my money!!! Over priced trash!
View in iTunes
$14.99

Category: Health & Fitness
Published: Apr 21, 2015
Publisher: Houghton Mifflin Harcourt
Seller: Houghton Mifflin Harcourt Publishing Company
Print Length: 272 Pages
Language: English
Version: 2.0
More by Melissa Hartwig & Dallas Hartwig