The Worst Class Trip Ever
Dave Barry
This book can be downloaded and read in iBooks on your Mac or iOS device.
Description
In this hilarious novel, written in the voice of eighth-grader Wyatt Palmer, Dave Barry takes us on a class trip to Washington, DC. Wyatt, his best friend, Matt, and a few kids from Culver Middle School find themselves in a heap of trouble—not just with their teachers, who have long lost patience with them—but from several mysterious men they first meet on their flight to the nation's capital. In a fast-paced adventure with the monuments as a backdrop, the kids try to stay out of danger and out of the doghouse while trying to save the president from attack—or maybe not.
From Publishers Weekly
Mar 09, 2015 –
Check your disbelief at the TSA line for this hilarious jaunt from Miami to Washington, D.C., with the civics students of Culver Middle School. Trouble starts on the airplane, where Wyatt Palmer and friend Matt Diaz notice that some nearby passengers have aerial photos of the White House and a backpack they are reluctant to stow under the seat in front of them. When an electronic device falls out of the bag, Matt pockets it, setting off a chain of events that leads to two kidnappings and an international incident in the Rose Garden involving the President, a foreign dignitary, a dragon kite, an angry cab driver, and more. (Suggested alternate title: The Worst School Chaperones Ever.) The boys are aided by the apple of Wyatt's eye, Suzana Delgado, who they are surprised to learn is not only an excellent soccer player but "basically a Navy SEAL disguised as a hot eighth-grade girl." Pulitzer-winner Barry has the comic sensibility of a middle-school class clown. Expect to have lots of trouble keeping this one on the shelf. Ages 8 12.
Screenshots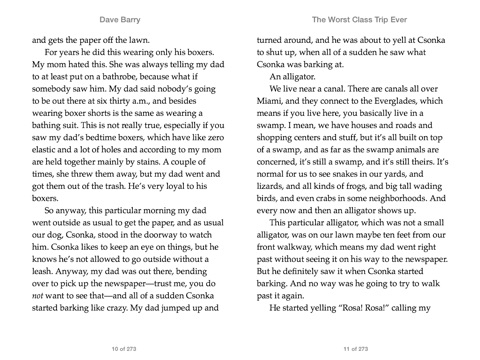 Customer Reviews
Fantastic
This book was great. I enjoyed every second of it, and I was very disappointed that it was so short. I loved the setting too, because Washington D.C. is one of my favorite cities in the world.
Great Book 📚 👍🏻
This is a fun book and it is very thrilling. I loved the book and how it all came together. I really like books that have adventure because you never know whats gonna happen next. This is one of those books! Its really good and if you like adventure and connecting the dots at the end this is definitely for you!!
View in iTunes
$9.99

Category: Fiction
Published: May 05, 2015
Publisher: Disney Book Group
Seller: Disney Publishing Worldwide
Print Length: 163 Pages
Language: English