This Is the Story of You
Beth Kephart
This book can be downloaded and read in iBooks on your Mac or iOS device.
Description
On Haven, a six-mile long, half-mile-wide stretch of barrier island, Mira Banul and her Year-Rounder friends have proudly risen to every challenge. But then a superstorm defies all predictions and devastates the island, upending all logic and stranding Mira's mother and brother on the mainland. Nothing will ever be the same. A stranger appears in the wreck of Mira's home. A friend obsessed with vanishing disappears. As the mysteries deepen, Mira must find the strength to carry on—to somehow hold her memories in place while learning to trust a radically reinvented future. Gripping and poetic, This Is the Story of You is about the beauty of nature and the power of family, about finding hope in the wake of tragedy and recovery in the face of overwhelming loss.
From Publishers Weekly
Jan 18, 2016 –
Having a younger brother with Hunter syndrome is hard on Mira Banul and her mother, Mickey, who works multiple jobs to pay for Jasper Lee's treatments and necessities for the cottage they inherited from Mira's aunt on the barrier island of Haven. Though 17-year-old Mira loves her family, she wishes life were simpler for them a wish she regrets when a hurricane pummels the island while her mother and brother are on the mainland. Using her forward thinking and bravery, Mira survives the storm and joins the trash-strewn beach with its collection of islanders reeling after half the town is washed away. Days from rescue, Mira and friend Deni search for survivors while the rest of the town gathers resources. Though the novel feels uneven in places, with a prolonged beginning and abrupt plot developments toward the end involving Mira discovering heretofore unknown family members, Kephart (One Stolen Thing) establishes relatable characters and a poetic style that artfully blend the island days before and after the storm. Ages 12 up.
Screenshots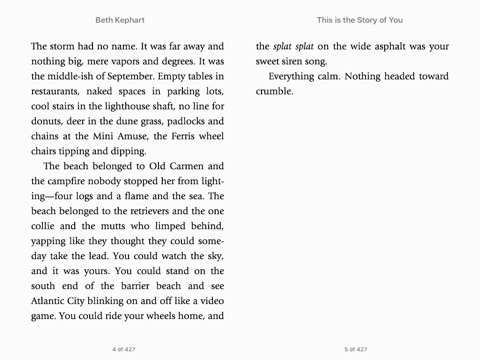 View in iTunes
$9.99

Level: Grades 9-13
Category: Coming of Age
Published: Apr 12, 2016
Publisher: Chronicle Books LLC
Seller: Chronicle Books LLC
Print Length: 264 Pages
Language: English