Three Little Pigs
Riley Weber
This book is available for download with Apple Books on your Mac or iOS device. Multi-touch books can be read with Apple Books on your Mac or iOS device. Books with interactive features may work best on an iOS device. Apple Books on your Mac requires OS X 10.9 or later.
Description
Once upon a time there were three little pigs.  One pig build his home out of straw, one pig build his home out of sticks, and one pig build his home out of brick.  The first two pigs just wanted to party and dance and sing all day so they build their homes quickly. A big bad wolf was watching the pigs build their homes. He was hungry for bacon. He blew the straw and stick home down and nearly got the pigs who lived in those homes.  They both ran to the pig who's home was built of brick.  

The big bad wolf then came to the third little pigs home and tried to blow the house in. Nope. It didn't work. The brick was too strong. The wolf, however, didn't give up there. He saw another way in. He scaled the home until he was on the roof. One of the three little pigs saw the wolf climb the home to the roof. The wolf saw a hole in the chimney and started to climb down. Fortunately, one of the three little pigs started a big fire in the fireplace. A big pot of water was placed on the fire to boil.

The big bad wolf fell down the chimney and landed right into the boiling pot of water. No more wolf! The other two pigs who build their homes quickly, out of straw and sticks, repented. They felt bad that they build their home so quickly, so they build new homes out of brick as well. Good ol sturdy brick. The three little pigs lived happily every after in their new brick homes.
Screenshots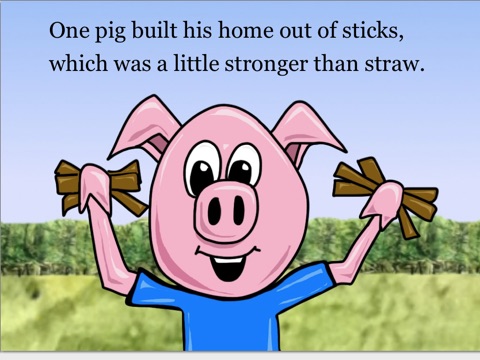 Customer Reviews
Stunning Graphics and Great Story
I am impressed by the stunning graphics. This book looks great on my iPad. The story is simple so my young kids can easily read and follow along.
3 Little Pigs!
This is the best version of the Three Little Pigs for kids. It's especially great for kids because of all the colorful pictures and simply words. The Three Little Pigs is a classic.
Superb!
My kids enjoy this book because of all the pictures. They like to repeat what the wolf says, "I'll huff and I'll puff or I'll blow your house down!" I love the overall theme of this book. Superb!
View in iTunes
$2.99

Level:

Grades P-6

Category:

Animals

Published:

Jul 16, 2012

Publisher:

Riley Weber

Seller:

Riley Steven Weber

Print Length:

34 Pages

Language:

English