Time Between Us
Tamara Ireland Stone
This book can be downloaded and read in iBooks on your Mac or iOS device.
Description
Anna and Bennett were never supposed to meet: she lives in 1995 Chicago and he lives in 2012 San Francisco. But Bennett''s unique ability to travel through time and space brings him into Anna''s life, and with him, a new world of adventure and possibility. Fresh, exciting, and deeply romantic, Time Between Us is a stunning and spellbinding debut from an extraordinary new talent in YA fiction.
From Publishers Weekly
Sep 10, 2012 –
The cute new boy at school, Bennett Cooper, keeps disappearing on steadfast Anna Greene in this warm, time-bending romance, set in 1995. High school junior Anna feels stuck in Evanston, Ill., growing up in her father s childhood home and dreaming of travel and adventure. Anna stays smitten with Bennett as he alternately flirts with her and pushes her away. Debut author Stone takes a while to let Anna discover that Bennett is a time traveler from the year 2012; they fall for each other knowing they might be pulled apart by Bennett s inability to stay in 1995. Some readers may get slightly tripped up by the logistics of time travel Bennett is simultaneously a baby and a 17-year-old in 1995 while looking for his sister who got stuck in 1994. But the chemistry between Bennett and Anna and the fun and brave things they do together will have readers rooting for the couple that keeps daring fate. The secret Bennett keeps from Anna unravels into a dreamy, twisty ending. Ages 12 up.
Screenshots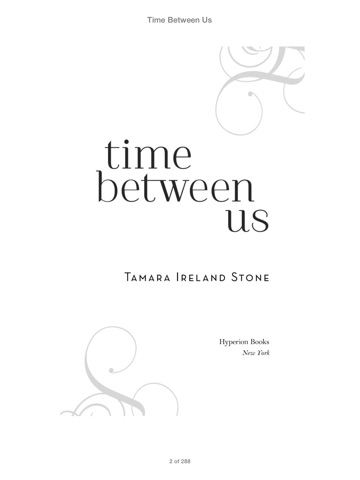 Customer Reviews
An Instant Favorite!
I picked up this book randomly, just for something to read. I couldn't put it down! It's the perfect combination of magic & mystery and a classic love story. I can't wait for the sequel and really hope that they do end up filming it! Beautiful story!
Amazing book
I have read this book over and over again since I've got it It is very romantic and cute would recommend to othes
I'm obsessed
I picked this book up just because I needed something to read for school and now I'm hooked. I can't stop reading it because it's like I want to get to the good part but every time I do it's keeps getting better and better and I just can't put it down. One of my absolute favorite books for sure. I can't wait to read time after time!
View in iTunes
$7.99

Category: Fantasy
Published: Oct 16, 2012
Publisher: Disney Book Group
Seller: Disney Publishing Worldwide
Print Length: 384 Pages
Language: English
More by Tamara Ireland Stone