Tony Northrup's DSLR Book: How to Create Stunning Digital Photography (iPad)
Tony Northrup
This book is available for download with iBooks on your Mac or iOS device. Multi-touch books can be read with iBooks on your Mac or iOS device. Books with interactive features may work best on an iOS device. iBooks on your Mac requires OS X 10.9 or later.
Description
"Stunning Digital Photography", the #1 photography ebook in the world, is now available on iBooks! This book has four things no other book offers:

1) VIDEO TRAINING. About 90 minutes of hands-on video tutorials. 

2) 400+ HIGH RESOLUTION, ORIGINAL PICTURES. Detailed example pictures taken by the author in nine countries demonstrate both good and bad technique. 

3) HANDS-ON PRACTICES. Complete the practices at the end of every chapter to get the real world experience you need.

4) NEVER OUTDATED. This book is regularly updated with new content (including additional videos) that existing owners receive. As new photography trends emerge and new camera equipment and lenses are released, you'll see them described in the book immediately. 

In this book, Tony Northrup (award-winning author of more than 30 how-to books and a professional portrait, wildlife, and landscape photographer) teaches the art and science of creating stunning pictures. 
First, beginner photographers will master:

* Buying a camera, lens, flash, tripod, and more
* Composition
* Exposure
* Shutter speed
* Aperture
* Depth-of-field (blurring the background)
* ISO
* Natural light
* Flash
* Troubleshooting blurry, dark, and bad pictures
* Pet photography
* Wildlife photography (mammals, birds, insects, fish, and more)
* Sunrises and sunsets
* Landscapes
* Cityscapes
* Flowers
* Forests, waterfalls, and rivers
* Night photography
* Fireworks
* Raw files
* HDR
* Macro/close-up photography

Advanced photographers can skip forward to learn the pro's secrets for:

* Posing men and women (checklists provided)
* Portraits (candid, casual, formal, and underwater)
* Remotely triggering flashes
* Using bounce flash and flash modifiers
* Using studio lighting on any budget
* Building a temporary or permanent studio at home
* Shooting your first wedding
* High speed photography
* Location scouting/finding the best spots and times
* Planning shoots around the sun and moon 
* Star trails (via long exposure and image stacking)
* Light painting
* Eliminating noise
* Focus stacking for infinite depth-of-field
* Underwater photography
* Getting close to wildlife
* Using electronic shutter triggers
* Photographing moving cars
* Photographing architecture and real estate
What's New in Version 2.0
Added more than 2 hours of video, bringing the total video to about 3.5 hours. Added sections on group photos, self-portraits, flash sync problems, back-button focusing techniques, short batter life problems, shooting in the rain, and troubleshooting focus problems. Expanded sections on photographing flying birds and choosing wedding photography camera equipment. Hundreds of minor updates and improvements!
Screenshots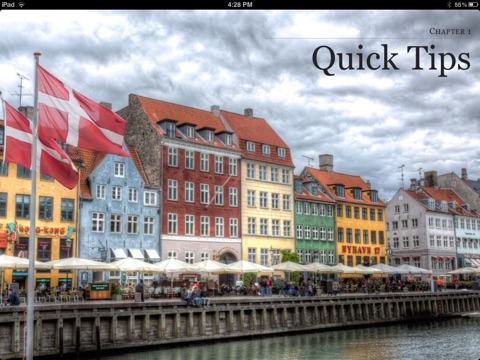 Customer Reviews
Excellent how-to photography book!
I've read a few other photography books and this is buy far my favorite. The author's style of writing is easy to understand and concise. The book is also organized in a very helpful way (it starts out basic but provides exciting pro tips, and gradually gets more technical with chapters about HDR, light painting, and even underwater photography.)
Tony Northrup also provides many videos on some of the concepts he covers in the book. The videos are one of my favorite parts. I usually read the section and then watch the video when one is available.
I also just discovered his Facebook page (Northrup Photography) where he reviews reader's pictures and troubleshoots and critiques them. I can't wait to start posting some myself!

So much bang for your buck here. Thank you, Tony!
Amazing book for a beginner!
Ok love this book. Simple language, endless pictures for examples, well recorded videos..... I just became a father, so I went out and brought a really expansive camera and took some really crappy pictures of my baby. Then I downloaded this book and now have amazing shots. I carry my iPad in my camera bag now because this book is as important as any lens or camera accessory in my bag.
Thank you Tony for the excellent (almost personal) training you have given me in photography.
The best photography book out there
I truly believe this is the best photography book that you could buy. The author, Tony, jumps right in and teaches you everything you need to know and then he adds in some bonuses too. I would highly recommend getting it on the iPad because the layout and functionality is ten times better than the iPhone version. If you have the iPad three you are in for a real treat because everything is so crystal clear. Also there are a bunch of videos in the book so that you can look and listen to what you are trying to learn. Also at the end of each chapter there is some "homework" for you to work on that makes you alot better at your photography skills. Tony can take you all the way to professional status if you put the time in, trust me I know.

One thing I HIGHLY recommend is that you go on facebook and like his page(I think the link is in the book so you can just click on it.) By liking his page you get updates about the book, and its kind of like a classroom because you can post your pictures and say "Hey, this picture didnt turn out how I wanted it to. What could I do to make it better?) or just show off your picture. Tony is really great at getting back to you usually in less than 24 hours. Not only does he help you, so do I and every other fan too.

If you are still reading this I reccomend buying the book so you can understand why this review is so long:)

THANKS TONY!
View in iTunes
$9.99

Category:

Photography

Published:

Jan 30, 2013

Publisher:

Mason Press

Seller:

Anthony Northrup

Print Length:

300 Pages

Language:

English

Version:

2.0