Tumford the Terrible
Tumford
Nancy Tillman
This book can be downloaded and read in Apple Books on your Mac or iOS device.
Description
Tumford isn't really a terrible cat. He just has a way of finding mischief—tracking dirt into the house, knocking over breakable things, and disrupting fancy parties. But even though he feels bad, he has a hard time saying, "I'm sorry." Will the fact that his owners love him, no matter what, help Tummy say the magic words?
From Publishers Weekly
Mar 28, 2011 –
Tumford exists to deliver a lesson on the importance of apologizing sincerely; with his chubby tummy and slick yellow boots, he looks as if he might have had some interesting adventures, but Tillman (On the Night You Were Born) stays on message. On the first page, Tumford claws a checked tablecloth to get to a plate of pancakes he's always in trouble but his owners Violet and George don't mind that so much as his inability to apologize ("In spite of the manners he often forgot,/ he would not say, 'I'm sorry,'/ Oh no, he would not."). During a trip to the fair, Tumford spills fish on the Village Fair queen and, after a fierce inner battle, resolves to do the right thing: "I'll bet you've guessed what comes next in the story./ Tumford stepped forward and said he was sorry." Extra-vivid impact is provided by photo-collage illustrations that combine winning images of Tumford (he has just the right insouciant, "I'm-not-apologizing" look) with props like teddy bears and teapots. Fans of Tillman's heart-on-her-sleeve sentimentality will be drawn to this as surely as Tumford is drawn to Twinklefish pie. Ages 3 5.
Screenshots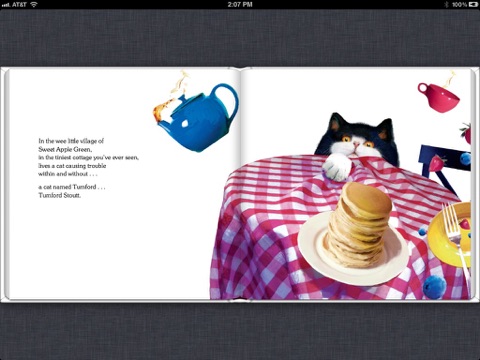 Other Books in This Series
View in iTunes
$7.99

Level: Grades P-1
Category: Animals
Published: May 24, 2011
Publisher: Feiwel & Friends
Seller: Macmillan
Print Length: 32 Pages
Language: English
Series: Tumford