Using Swift with Cocoa and Objective-C (Swift 4.0.3)
Swift Programming Series
Apple Inc.
This book can be downloaded and read in iBooks on your Mac or iOS device.
Description
Swift is a programming language for iOS, macOS, watchOS, and tvOS app development. It is designed to seamlessly integrate with Cocoa, Cocoa Touch, and Objective-C, allowing you to use the same familiar classes, patterns, and practices to build apps. Swift makes working with Cocoa and Objective-C safer, faster, easier, and more fun. 

This book provides:
– An overview of a Swift Xcode project
– Design patterns and best practices for working with Cocoa, Objective-C, and C
– Step–by–step instructions to use Swift and Objective-C in the same app
– Strategies to migrate your Objective-C code to Swift
Screenshots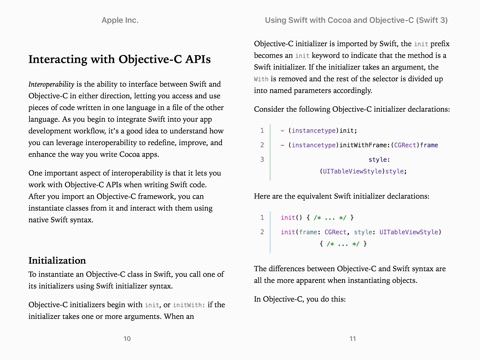 Customer Reviews
Great book
Great for general view
Müthiş!
ObjectiveC öğrenmek isteyenler ve İngilizce bilenler için kaçınılmaz fırsat. Ben de öğrenmek, iOS için uygulama geliştirmek istiyorum. Fakat maalesef İngilizce bilmediğim için öğrenemeyeceğim. Bu kitabın Türkçe çevirili olanı da yüklenseydi müthiş olurdu, öğrenirdim ben de. Umarım Apple bunu dilkate alır 👍✌️
Nice book
Nice Book to MIgrate my Objc Code to Swift
Other Books in This Series
View in iTunes
Free

Category:

Programming

Published:

Jun 02, 2014

Publisher:

Apple Inc.

Seller:

Apple Inc.

Print Length:

100 Pages

Language:

English

Series:

Swift Programming Series