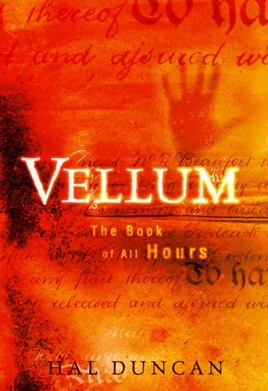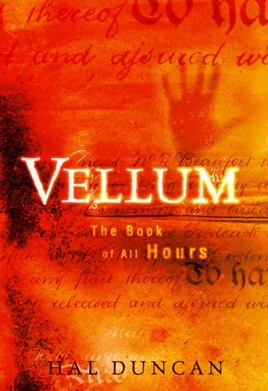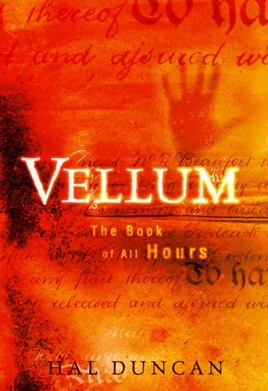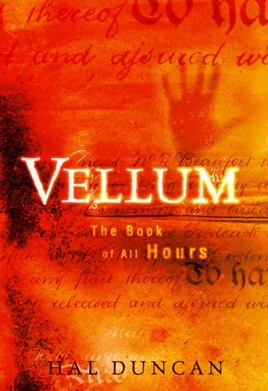 Vellum
The Book of All Hours
Publisher Description
An extraordinary, incendiary debut from a rare new talent, Vellum showcases a complex and sophisticated level of writing coupled with a fecund imagination that defies description.

It's 2017 and angels and demons walk the earth. Once they were human; now they are unkin, transformed by the ancient machine-code language of reality itself. They seek The Book of All Hours, the mythical tome within which the blueprint for all reality is transcribed, which has been lost somewhere in the Vellum—the vast realm of eternity upon which our world is a mere scratch.

The Vellum, where the unkin are gathering for war.

The Vellum, where a fallen angel and a renegade devil are about to settle an age-old feud.

The Vellum, where the past, present, and future will collide with ancient worlds and myths.

And the Vellum will burn. . . .
PUBLISHERS WEEKLY
Scottish author Duncan's challenging SF debut, the first in a two-book series about an epic battle between good and evil, reveals the history of the advanced, ancient and powerful civilization of Kur through Egyptian, Babylonian and East Indian myth as well as bitmites, cyber-avatars and warring bands of fallen angels. A book, The Vellum (aka The Book of All Hours), is both portal to parallel realities and guide to a language of power that can be both inscribed in the skin and on the soul. Since individual characters like Seamus Finnan, Jack Carter, Thomas Messenger and Thomas's sister, Phreedom, whose lives are destroyed, prolonged and forever scarred by contact with a realm called the Vellum, tend to appear and reappear at intervals often 20 or 40 years apart, their adventures in the human, parallel and cyber universes can be hard to follow. Readers who persevere will find this a truly rewarding read.