White Squirrel Colorful World
Mr Matt
This book can be downloaded and read in iBooks on your Mac or iOS device.
Description
This is a story about friendship, loneliness and realizing that first impressions aren't always a squirrel's true character.

Merle is a lonely white squirrel living in the colorful world.  He goes on a journey to find and befriend other white squirrels.  Merle is so convinced that his new friends will have white fur that he is blind to the fact that he befriends all the colorful forest animals he encounters.  Merle feels out of place, even though the other animals all seem to like him.  Will Merle ever make a true friend and stop feeling lonely?  Will he reach the giant oak tree with the other white squirrels?  Or will the sneaky bobcat finally catch him?

Mr. Fox is the only animal big enough to scare off the bobcat, but will the fox help Merle?  Mr. Fox has a history with the white squirrels in the big oak tree -- they were really mean to him.  Can Mr. Fox understand that not all white squirrels are the same... that Merle might be... a nice squirrel?  Will he figure this out in time to save the lonely white squirrel?

Follow Merle the squirrel as he travels the forest encountering friendly flying squirrels, curious sparrows, a grumpy turtle, a sly fox and other colorful characters.  This early chapter book-picture book hybrid is sure to keep your little one (6-9 years) guessing what comes next, ready for happy ending number one, and delighted by an unexpected second happy ending!  This book is divided into nine, easy-to-read chapters.  Each chapter is the length of a traditional illustrated kids book.  You might recognize a little bit of The Ugly Duckling, Charlotte's Web and The Little Prince.  Those were my literary inspirations, I hope you like it!

Screenshots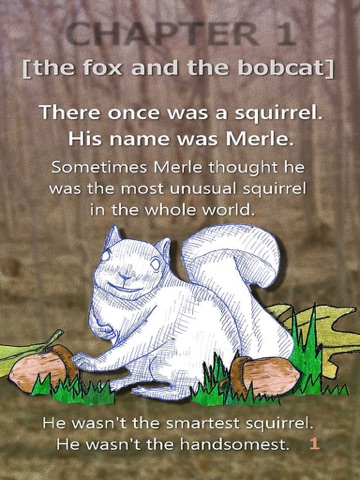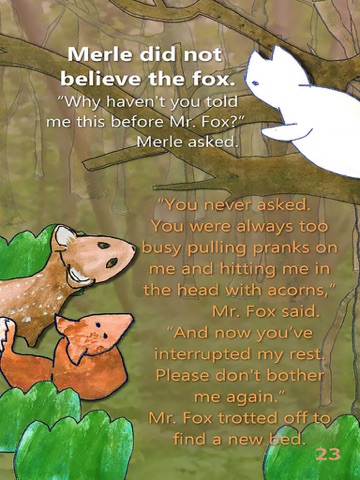 View in iTunes
$1.99

Category:

Animals

Published:

Jan 11, 2016

Publisher:

Loose.li

Seller:

Matt Loosli

Language:

English