Willoughby & the Moon
Greg Foley
This book can be downloaded and read in iBooks on your Mac or iOS device.
Description
Every night, the moon outside Willoughby's window gets smaller, and smaller, and smaller . . . until one night it disappears!

But Willoughby isn't afraid of the dark. Not really. He just wants to know where the moon went.

When he finds it in the most surprising place, he sets off on a magical adventure and meets a new friend who seems to be scared of lots of things—moon buggy rides, space pods, big rocks. . . . But it's Willoughby who has to overcome his own biggest fear in order to help his friend.
From Publishers Weekly
May 10, 2010 –
Willoughby, who s afraid of the dark, discovers the moon in his closet one night, along with a giant snail that is searching for a lost silver ball. The snail is scared, so Willoughby takes charge, searching for the ball via moon buggy and a space pod ( Heights are no big deal, he says). Foley trades the gold metallic highlights of Willoughby and the Lion for silver in this outing, which just hints at an otherworldly possibility of danger (which is never to be found). When the snail searches for the ball in a cave, it s Willoughby s turn to be afraid, but the reward for his bravery is a freestyle ball game with the snail s friends. Foley s stylized dreamscape offers the comforting illumination of a sleek nightlight. Ages 4 7.
Screenshots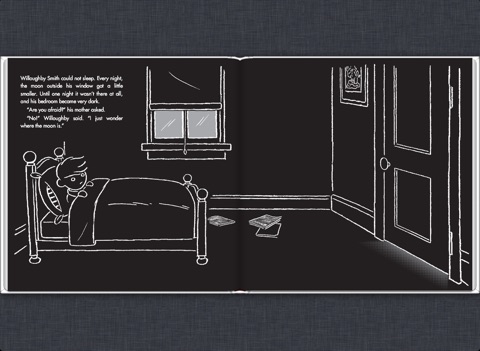 View in iTunes
$5.99

Level: Grades P-2
Category: Animals
Published: Nov 15, 2011
Publisher: Balzer + Bray
Seller: HarperCollins
Print Length: 40 Pages
Language: English