Wisdom, the Midway Albatross
Surviving the Japanese Tsunami and Other Disasters for Over 60 Years
Darcy Pattison & Kitty Harvill
This book is available for download with iBooks on your Mac or iOS device. Multi-touch books can be read with iBooks on your Mac or iOS device. Books with interactive features may work best on an iOS device. iBooks on your Mac requires OS X 10.9 or later.
Description
The oldest wild bird in the world faced yet another danger when the Japanese Tsunami struck Midway Island where she lives. This is Wisdom's astounding story of survival of manmade and natural disasters for over 60 years. She has survived the dangers of living wild, plastic pollution, longline fishing, lead poisoning, and the Japanese earthquake.

At 65+ years old, she's still alive and still laying eggs and hatching chicks. A must-read true story to capture the imagination of children of any age.

Darcy Pattison's Wisdom, the Midway Albatross inspires young scientists and nature lovers with a true story of an individual animal in an easy to read format with captivating illustrations. It's the first of a series of fascinating animal biographies for elementary readers. Pattison's science-related books bring kids face to face with the basic questions of science and help them think like scientists.

You'll be awed and inspired as you read this amazing story of survival and hope amidst the difficulties of life. As you read it, think of this majestic albatross soaring over the deep blue sea, wild and free.
WHAT THEY ARE SAYING ABOUT THIS BOOK:

"It's marvelous! I LOVE it! And I got a lump in my throat, tears! And I'm a biologist! Your book is beautiful, meaningful, simple, elegant.........thank you for caring, thank you for sharing this story!" Kim Rivera, National Seabird Coordinator, NOAA Fisheries, Deputy ARA, Protected Resources Division, Alaska Region

"Wisdom's story makes my heart soar." Kirby Larson, author of Two Bobbies: A True Story of Hurricane Katrina, Friendship and Survival and Winner of the Newbery Honor for Hattie Big Sky.

"On December 10, 1956, early in my first visit to Midway, I banded 99 incubating Laysan Albatrosses in the 'downtown' area of Sand Island, Midway. Wisdom (band number 587-51945) is still alive, healthy, and incubating again in December 2011. While I have grown old and gray and get around only with the use of a cane, Wisdom still looks and acts just the same as on the day I banded her. . . remarkable true story. . . beautifully illustrated in color." Chandler S. Robbins, Sc.D, Senior Scientist (Retired), USGS Patuxent Wildlife Research Center, Laurel, MD.

Q & A WITH THE AUTHOR
Q - How would you describe your animal biographies?
A –Many science and nature books talk about endangered species. Instead, I wanted to tell stories about individual animals. It's not easy to find a story of an individual because so few are tracked across their lifetime. Wisdom's story was amazing because she's been banded since December 10, 1956. While we don't know everything about her life, we can infer a lot by studying the natural history of her habitat. Her life has been impacted by storms – tropical storms, hurricanes, tsunamis—and by every type of pollution that exists in the Pacific Ocean. I find the story of ONE bird much more interesting than the story of an entire species.

Q - Why did you want to write science for kids?

A –I love the basic questions of science: What happened? Why did it happen? Can you describe and explain this natural phenomenon? I want to inspire kids to think like scientists, to be awed at the world that surrounds them. Ultimately, I hope some of my readers go on to make amazing discoveries, to save the Earth from all sorts of pollutions and dangers, and add to the growing body of knowledge about the planet on which we live.

Q - What does it mean to you when readers buy your books?

A - It's an honor. I hope that these humble stories of the world around us invoke a sense of wonder and awe. Bringing stories to kids is an amazing privilege. Please—share the books with a kid you love.
From Publishers Weekly
Feb 18, 2013 –
Pattison (Prairie Storms) offers a remarkable survival story about Wisdom, a female Laysan Albatross first tagged by scientists in 1956 and still alive today, having lived through multiple tsunamis, other natural disasters, and manmade threats to the well-being of her species. Born on Midway Atoll, the bird (who wouldn't receive the name Wisdom until she was rediscovered in 2002 by the scientist who originally tagged her) spends years at sea, feasting on squid, avoiding sharks, and producing chicks year after year ("By the time she was twenty," writes Pattison, "she had outlived eighty-seven percent of her rookery mates"). Harvill (Up, Up. Up! It's Apple-Picking Time) contributes carefully detailed and naturalistic illustrations, portraying both the beauty and danger of Wisdom's aquatic environment (discarded plastic and the 2011 Japanese earthquake and tsunami are among the hazards Wisdom manages to escape). While the heavy font used for the text is at times intrusive, Pattison writes crisply and evocatively, and her closing notes provide a wealth of information and resources for readers interested in Wisdom and her fellow albatrosses. Ages 6 12.
Screenshots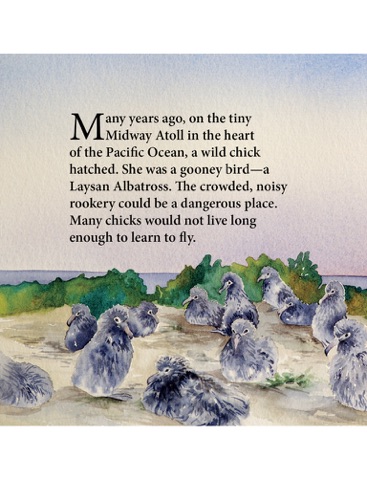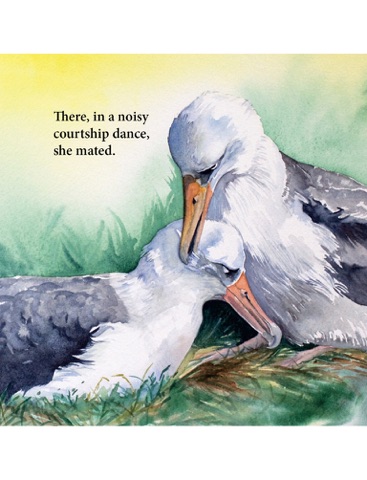 View in iTunes
$2.99

Level: Grades 1-6
Category: Animals
Published: Mar 02, 2012
Publisher: Mims House
Seller: Darcy Pattison
Print Length: 32 Pages
Language: English