Zombie Fallout 1
Book 1, Zombie Fallout
Mark Tufo
This book can be downloaded and read in Apple Books on your Mac or iOS device.
Description
Review
"Working as both straight up survival fiction and comedy, Mark Tufo's FALLOUT is a gory, laugh out loud tale of a community of heroes, cowards and misfits struggling against zombies. Tufo's unlikely hero is one of the funniest and most endearing characters I've seen in zombie fiction." - Craig DiLouie, author of TOOTH AND NAIL and THE INFECTION

Product Description
Late Fall – 2010

Reuters – Estimates say that nearly three thousand people nationwide, and fifteen thousand people worldwide have died of the H1N1 virus or Swine flu and nearly eighty thousand cases have been confirmed in hospitals and clinics across the United States and the world, the World Heath Organization reported. The influenza pandemic of 2010, while not nearly as prolific as the one that raged in 1918 still has citizens around the world in a near state of panic. 

New York Post (Headlines October 31st) – Beware! Children Carry Germs! – Halloween Canceled!

New York Times – (Headlines November 3rd) – Swine flu claims latest victim – Vice President surrounded by family and friends at the end. 

Boston Globe – (Headlines November 28th) – Swine Flu Vaccinations Coming!

Boston Herald – (Headlines December 6th) – Shots in Short Supply – Lines Long!

National Enquirer – (Headlines December 7th) – The Dead Walk!

There would be no more headlines. 

It started in a lab at the CDC (Center for Disease Control), virologists were so relieved to finally have an effective vaccination against the virulent swine flu. Pressure to come up with something had come from the highest office in the land. In an attempt at speed the virologists had made two mistakes, first they used a live virus and second they didn't properly test for side effects. Within days hundreds of thousands of vaccinations shipped across the US and the world. People lined up for the shots, like they were waiting in line for concert tickets. Fights broke out in drugstores as fearful throngs tried their best to get one of the limited shots. Within days the CDC knew something was wrong. Between 4 and 7 hours of receiving the shot roughly 95% succumbed to the active H1N1 virus in the vaccination. More unfortunate than the death of the infected was the added side effect of reanimation, it would be a decade before scientists were able to ascertain how that happened. The panic that followed couldn't be measured. Loved ones did what loved ones always do, they tried to comfort, their kids or their spouses or their siblings, but what came back was not human not even remotely. Those people that survived their first encounter with these monstrosities usually did not come through unscathed, if bitten they had fewer than 6 hours of humanity left, the clock was ticking. During the first few hysteria ridden days of The Coming as it has become known, many thought the virus was airborne, luckily that was not the case or nobody would have survived. It was a dark time in human history. One from which we may never be able to pull ourselves out of the ashes from.
Screenshots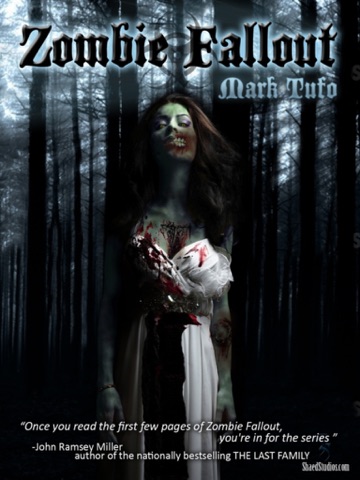 Customer Reviews
Great book
Stumbled upon this book on reddit and decided to check it out. Glad I did. It's a excellent read and I rarely if ever read a book, I was hooked instantly. I highly recommend it
Horrifying . . . but not in a good way
Poor pacing: Spoiler--the book is about zombies. But do we really need the zombies to show up on page 2? And, if you insist on plunging right into the, um, "action," why does the narrator choose the points of greatest dramatic tension to digress into internal dialogue on What It All Means?

Nonexistent character development: since the zombies show up on page 2, the reader has only the dimmest notion of who the protagonist is (the narrator helpfully shares that he is a former-business-professional-turned-ditch-digger who used to "make bank" before George Bush put him out of a job . . . we've all heard THAT story a million times, right?). As for the other "characters," their only purpose is to act as straight men to the narrator: SOMEBODY has to ask lots of obvious questions, so that our narrator can give obvious answers, so that the reader will realize that this guy has Got It Under Control. The TV news advises our hero that "the pathogen is airborne." "What does that mean?" asks his wife. Obviously, he married her for her mind.

Painful moments of meta- and self-referentialism: the narrator--who admits to having fantasized often about a zombie infestation--muses that there's a certain liberating aspect to worrying only about one's bare survival, rather than the many trivialities of modern life. Not only does this break the cardinal rule of storytelling--"show, don't tell"--it is also such a painfully obvious theme of zombie/survival horror fiction that it shouldn't need to be said at all. Also, the narrator makes repeated references to other pop-culture zombie stories, often as a means to describe the zombies in the story . . . which, I'm sure is much easier than coming up with descriptions on one's own.

Highly implausible plot devices: the author would have us believe that not only has the narrator spent 25 years preparing for (or maybe longing for?) a zombie outbreak, but also that he and his teenage sons have practiced extensively as a "three man fire team" for just such an eventuality.

Horrid grammar: examples abound. Early on, we are advised that "a third of our country is in enemy hands and spreading fast." I'm not sure which is the more remarkable fact: that our country is spreading fast, or that 1/3 of it is in enemy hands.

Stilted language: again, examples abound. "The relaxation on his face was perceptible."

This book reads like first-time fan fiction. Avoid it like an airborne zombie plague.
Amazing
This book is incredible you really fall in love with the characters.
View in iTunes
$0.99

Category:

Science Fiction

Published:

Feb 27, 2010

Publisher:

Mark Tufo

Seller:

Mark Tufo

Print Length:

429 Pages

Language:

English

Series:

Book 1, Zombie Fallout