ZooZical
Judy Sierra & Marc Brown
This book can be downloaded and read in iBooks on your Mac or iOS device.
Description
Winter weather is keeping children from visiting the zoo. So the animals are out of sorts—listless, grumpy, and no longer fun. All except two little friends, a very small hippo and a baby kangaroo. Their hip-hopping, toe-tapping,  and rap-rocking soon has the other animals joining in the hip-aroo beat. "Racoons danced in pairs, baboons danced in troops, and snakes joined the dancers as live hula-hoops." Children's favorite songs get a funny new spin—seals bark out "The seals on the bus go round and round"—as the animals create their very own musical.

Young readers and listeners will be amazed and delighted at how the animals chase the winter doldrums by getting along as friends, pooling their talents, and pushing themselves to new heights. After all, these are the same clever animals who learned to read in Judy Sierra's and Marc Brown's Wild About Books, an award-winning New York Times #1 bestselling picture book. ZooZical is sure to inspire some "can do" fun in kindergarten and primary grades.

From the Hardcover edition.
From Publishers Weekly
Jun 06, 2011 –
Teens have Glee, tweens have High School Musical, and with this snappy follow-up to Wild About Books younger siblings can delight in the joy of putting on a show. When the book opens, the "midwinter doldrums" have descended on the zoo: "Owls did not give a hoot./ Pandas quit being cute./ Even penguins were surly./ The Zoo gates closed early." But a young hippo and a joey beat the blahs with a spirited, spontaneous dance, and entice the other creatures to stage a "ZooZical," a musical extravaganza that spotlights their many talents ("Bears walked the tightrope with elegant ease/ Flamingos whizzed by on the flying trapeze") and delights their human audience. With humor and gusto, Brown's richly textured folk art inspired pictures convey the characters' dramatic shift in moods and imbue them with abundant personality. Meanwhile, Sierra's riffs on familiar tunes (rabbits sing "If you're hoppy and you know it, clap your paws..."; seals roll onstage on a bus, barking, "The seals on the bus go round and round...") guarantee that readings will be very musical affairs, with children enthusiastic participants. Ages 4 8.
Screenshots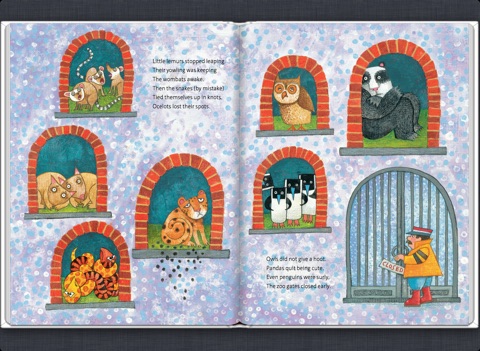 Customer Reviews
Adorable
An amazing book with wonderful illustrations.
View in iTunes
$8.99

Category: Animals
Published: Aug 09, 2011
Publisher: Random House Children's Books
Seller: Penguin Random House LLC
Print Length: 40 Pages
Language: English