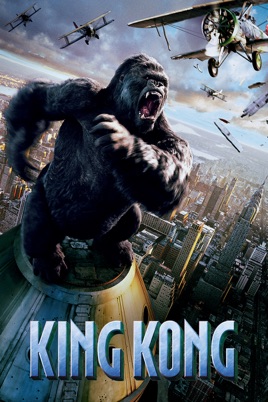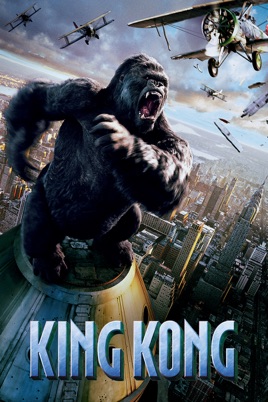 King Kong (2005)
Academy Award-winning director Peter Jackson (The Lord of the Rings Trilogy) brings his sweeping cinematic vision to King Kong. Naomi Watts, Jack Black and Adrien Brody star in this spectacular film filled with heart-pounding action, terrifying creatures and groundbreaking special effects unlike anything you've seen before! Get ready for breathtaking action in this thrilling epic adventure about a legendary gorilla captured on a treacherous island and brought to civilization, where he faces the ultimate fight for survival. Experience the movie that critics are hailing as a "rousing, exciting cinematic adventure!" (Scott Mantz, Access Hollywood)
Academy Award-winning director Peter Jackson (The Lord of the Rings Trilogy) brings his sweeping cinematic vision to King Kong. Naomi Watts, Jack Black and Adrien Brody star in this spectacular film filled with heart-pounding action, terrifying creatures and groundbreaking special effects unlike anything you've seen before! Get ready for breathtaking action in this thrilling epic adventure about a legendary gorilla captured on a treacherous island and brought to civilization, where he faces the ultimate fight for survival. Experience the movie that critics are hailing as a "rousing, exciting cinematic adventure!" (Scott Mantz, Access Hollywood)
Ratings and Reviews
Critics Consensus: Featuring state-of-the-art special effects, terrific performances, and a majestic sense of spectacle, Peter Jackson's remake of King Kong is a potent epic that's faithful to the spirit of the 1933 original.
Spectacular remake has violence, intense peril.
Information
Studio

Universal Pictures

Genre

Released

Copyright

© 2005 Universal Studios and MFPV FILM GmbH. All Rights Reserved.
Languages
Primary

English (Stereo, Dolby 5.1)
Accessibility
CC

Closed captions refer to subtitles in the available language with addition of relevant nondialogue information.
Movies in Action & Adventure
See All