Wanderlust
Paul Rudd and Jennifer Aniston star in this laugh-out-loud comedy about leaving it all behind. After George (Rudd) loses his high-stress Manhattan job, he and his wife, Linda (Aniston), hit the road and wind up crashing at Elysium, a free-spirited community of hippies, tree-huggers and the occasional nudist. Featuring an all-star ensemble cast including Justin Theroux, Malin Akerman and Alan Alda, Wanderlust has "more laughs than I've had at the movies in a very long time." (Carrie Rickey, Philadelphia Inquirer)
Paul Rudd and Jennifer Aniston star in this laugh-out-loud comedy about leaving it all behind. After George (Rudd) loses his high-stress Manhattan job, he and his wife, Linda (Aniston), hit the road and wind up crashing at Elysium, a free-spirited community of hippies, tree-huggers and the occasional nudist. Featuring an all-star ensemble cast including Justin Theroux, Malin Akerman and Alan Alda, Wanderlust has "more laughs than I've had at the movies in a very long time." (Carrie Rickey, Philadelphia Inquirer)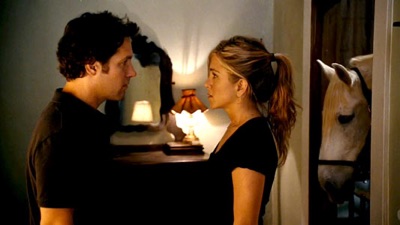 Ratings and Reviews
Average

5.6/10

Fresh

83

Rotten

58
Critics Consensus: It isn't always as funny as it should be, but Wanderlust benefits from an extremely talented cast and some of David Wain's most confident, assured work behind the camera.
Mature comedy offers lots of raunchy comedy -- plus nudity.
Information
Studio

Universal Pictures

Genre

Released

Copyright

© 2012 Universal Studios. All Rights Reserved.
Languages
Primary

English (Audio Description, Stereo, Dolby 5.1)
Accessibility
CC

Closed captions refer to subtitles in the available language with addition of relevant nondialogue information.

AD

Audio description refers to a narration track describing what is happening on screen to provide context for those who are blind or have low vision.