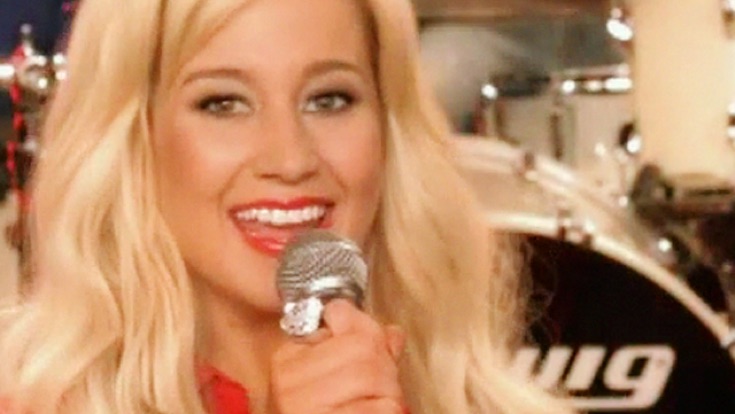 Ratings and Reviews
HOT VIDEO! KELLIE ROCKS RED HIGH HEELS! A+++
Kellie is sassy, sexy, and kicking them to the curb in her Red High Heels! The song is a girls' power anthem and guys love it too! My favorite scene is when she punts a long field goal in her Red High Heels! I heard NFL teams are recruiting Kellie to be their kicker. ;) A few video facts - the red hot car is a 60s Chevy Malibu and the blonde sitting behind Kellie is her half-sister. The club is the EXIT/IN located in Nashville and the football scenes were filmed at a local school there. Even though I already have this video recorded I bought the iTunes version because the quality is better, widescreen with fairly high resolution, and of course the sound quality can't be beat!
Cute, sexy video debut for "naughty little minx"
Country music fans are "picking Pickler." Kellie Pickler's perky "Red High Heels" video is strutting to victory in numerous online challenges and sinking its heels into major Top 20 lists.

This song's a bouncy ditty about what to do when it's time to cut off that worthless boyfriend. The answer, kick him to the curb and show him what he's missin' in your "Red High Heels."

Pickler, who co-wrote this dynamic "girls' anthem," performs with genuine pep, humor and twang. The "naughty little minx" scores on this catchy, sexy and fun hit with crossover appeal. And she's so darn cute doing it!
FINALLY!
I have been waiting for Kellie's Red High Heels music video to be released on iTunes. Thanks for adding it!

RHH is a great song and fun to listen to. If you were a fan of Kellie on American Idol or if you love country music that's upbeat and fun to listen to, you will love this music video!
About Kellie Pickler
In 2005, singer Kellie Pickler landed a spot in the fifth season of American Idol. Though she finished sixth, the former waitress and Miss North Carolina contestant charmed American audiences with her Southern twang and blonde ambition, resulting in a contract with BNA Records that yielded her debut album, Small Town Girl, in the fall of 2006 and an eponymous sophomore release in 2008, which yielded Pickler's first Top Ten hit, "Best Days of Your Life," a song she co-wrote with Taylor Swift. Her third album, the Frank Liddell-produced 100 Proof, appeared late in 2011. Despite being greeted by strong reviews and encouraging initial sales, 100 Proof didn't generate a hit single (the closest was "Tough," which peaked at 30). Pickler and Sony Nashville announced that they were parting ways in the summer of 2012.

In 2013, she appeared as a contestant on the TV show Dancing with the Stars and subsequently won the contest with dance partner Derek Hough. She also announced details of her fourth studio album, The Woman I Am. Released on Black River Entertainment and preceded by the singles "Someone Somewhere Tonight" and "Little Bit Gypsy," the album saw release in November 2013. ~ James Christopher Monger
HOMETOWN

Albemarle, NC

GENRE

BORN

June 28, 1986