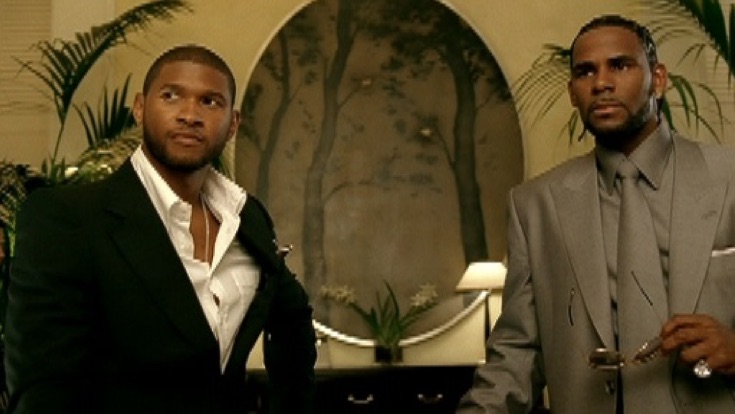 Ratings and Reviews
An Added Twist!
This is the second single off of R. Kelly's album Double Up. Although the first single was very good, this song is much better. In fact, I would feel comfortable saying that this is the best song of the year so far. It features without a doubt, the two best R&B singers, and is just another example of the musical genius that both R. Kelly and Usher are capable of putting together. The sequencing in this song is perfect. In the beginning, R. Kelly calls Usher to tell him about this girl that he is dating who he really likes. R. Kelly begins to discribe her, and eventually Usher starts asking some questions. They both realize that they are dating the same girl. In the second verse, the both talk about how they met her, and both find out that they met her through a very similar circumstance. Then in the third verse, they are both plotting a way to get back at her, and come up with the plan to call her and invite her to their friends wedding. Then when they get to the wedding both go to meet their dates, and they realize that they have been dating twins! They are in fact different girls, but just happen to have the same living situation. This video and song are absolutely musical genius. So far, Same Girl is the song of the year.
LOVE IT!!
i never suspected the way it ended
i thought that it was too predictable but then BAM!
i loved it!
it was really funny
welcome back!!!!!
Usher is finally back and is picking up where he left off.... Kell's with Usher is a great combo and the video is hot too. Props to both for a sick song and an even better video, but I just wanna say welcome back Usher. Sahil is also a chud!!! Can't wait for the new album!!!
About R. Kelly
R&B producer/vocalist/multi-instrumentalist/songwriter R. Kelly and his supporting band Public Announcement began recording in 1992 at the end of the new jack swing era, yet he was able to keep much of its sound alive while remaining commercially successful. While he created a smooth, professional mixture of hip-hop beats, soulman crooning, and funk, the most distinctive element of Kelly's music is its explicit carnality. He was able to make songs like "Sex Me," "Bump n' Grind," "Your Body's Callin'," and "Feelin' on Yo Booty" into hits because his production was seductive enough to sell such blatant come-ons. As his crossover success broadened, Kelly also developed a flair for pop balladry that helped cement his status as one of the biggest-selling male artists of the '90s and 2000s.

Kelly and Public Announcement released their debut album, Born into the 90's, at the beginning of 1992. It was an instant R&B smash, while earning a fair amount of pop airplay; "Honey Love" and "Slow Dance (Hey Mr. DJ)" were number one R&B hits, while "Dedicated" was his biggest pop hit at number 31. 12 Play, released in the fall of 1993, established Kelly as an R&B superstar, eventually selling over five million copies. The first single, "Sex Me, Pts. 1-2," went gold, and the second, "Bump n' Grind," hit number one on both the pop and R&B charts in 1994; it stayed on top of the R&B charts for an astonishing 12 weeks, while logging four weeks at number one on the pop charts. The follow-up, "Your Body's Callin'," was another gold single, peaking at number 13 pop.

Also in 1994, he produced Age Ain't Nothing But a Number, the hit debut album for then-15-year-old Detroit R&B singer Aaliyah. Late in the year, it was revealed that Kelly and Aaliyah had wed in August and gotten an annulment shortly thereafter. The news sparked a small storm of controversy in the media, yet it didn't hurt the careers of either singer. Kelly next wrote and co-produced "You Are Not Alone," the second single from Michael Jackson's HIStory album, which was released in the summer of 1995. Later that year, Kelly released a self-titled album that became his first to top the pop charts. R. Kelly sold four million copies and produced three platinum singles -- "You Remind Me of Something," "Down Low (Nobody Has to Know)," and "I Can't Sleep Baby (If I)" -- all of which hit number one R&B and reached the pop Top Ten.

Kelly truly consolidated his crossover success with the 1996 single "I Believe I Can Fly," which he recorded for the Michael Jordan movie Space Jam. Transcending Kelly's prior sexed-up image, the song reached number two on the pop charts and won Grammy Awards for Best Male R&B Vocal Performance, Best R&B Song, and Best Song Written Specifically for a Motion Picture or for Television. Kelly remained in the public eye in 1997 with another Top Ten soundtrack tune, Batman & Robin's "Gotham City."

The ambitious two-disc R. followed in 1998, and even though it downplayed the explicit loverman routine that had made him a star, it became Kelly's biggest-selling album yet, going platinum seven times over. Its first single, a duet with Celine Dion titled "I'm Your Angel," became Kelly's second number one pop hit with a six-week run on top. Even though subsequent singles "When a Woman's Fed Up" and "If I Could Turn Back the Hands of Time" were more successful on the R&B charts, Kelly was well on his way to landing more Top 40 hits in the '90s than any other male solo artist, and notched another with his guest appearance on Puff Daddy's R&B chart-topper "Satisfy You." Moving his blockbuster success into a new decade, Kelly returned in 2000 with TP-2.com, which spent three weeks at number one on the album charts and scaled back the ambition of R. to return to familiar lyrical themes. He scored two more R&B number ones with "I Wish" and "Fiesta" (the latter featuring guest Jay-Z), and had further hits with "Feelin' on Yo Booty" and "The World's Greatest," the latter from the soundtrack of the Will Smith film Ali.

In the wake of "Fiesta," Kelly and Jay-Z teamed up to record an entire album together. The Best of Both Worlds was heavily hyped and even more heavily bootlegged, but problems of a much more serious nature arose in February 2002, when The Chicago Sun-Times reported that it had been given a videotape showing Kelly having sex with a 14-year-old girl. When the scandal broke, other reports surfaced that Kelly had settled a civil suit in 1998 involving a sexual relationship with a then-underage girl, and that he was in the process of settling another suit brought by an Epic Records intern making similar allegations. Copies of the tape in question were sold as bootlegs and on the Internet, and while there was some question as to whether the man was really Kelly, and whether the girl really was underage, Kelly's past history seemed to lend credence to the charge. Some radio stations dropped him from their playlists, and anti-Kelly protests were staged in Chicago. Meanwhile, The Best of Both Worlds entered the charts at number two, but sold disappointingly; some blamed the scandal, others the extensive pre-release bootlegging, although the generally unfavorable reviews suggested that the record's overall quality might also have been to blame.

Following the initial sex-tape scandal, Kelly was dogged by numerous civil suits, including one from a girl who alleged that during her relationship with Kelly (which occurred while she was underage), she had become pregnant and gotten an abortion at the singer's urging. A variety of other sex videos purporting to feature Kelly appeared as bootlegs, and a onetime Kelly protégée, a singer called Sparkle, stepped forward to identify the girl on the original tape as her then-14-year-old niece. In June, Chicago police officially charged Kelly with 21 counts of child pornography-related offenses, all related to the original tape. Kelly pleaded not guilty and released a new song, "Heaven, I Need a Hug," which got extensive airplay for a brief period.

Meanwhile, work on his next album, Loveland, stalled amid more heavy bootlegging. Kelly eventually scrapped some of the most pirated tracks, recorded some new songs, and reassembled the album as Chocolate Factory (which was slated to include a bonus disc with some of the deleted material). Released in advance of the album, lead single "Ignition" shot to number one on the R&B charts in late 2002. Chocolate Factory itself was released in early 2003, and was followed in 2004 by Happy People/U Saved Me. Surprisingly, despite reports of a feud with Jay-Z, another album was released from The Best of Both Worlds sessions later in 2004.

Weeks before the scheduled start date of his child pornography trial in 2005, TP.3 Reloaded was released, featuring the first five chapters of his soapy "Trapped in the Closet" saga. The relatively uneventful eighth and ninth studio albums Double Up (2007) and Untitled (2009) followed. In the meantime, the much-delayed trial finally took place (in 2008) and Kelly walked free, having been found not guilty on all counts. In 2010, Kelly's activity included Epic -- a European release combining some of his widescreen hits with a handful of new "inspirational" songs, including "Sign of a Victory," the anthem he recorded for the opening ceremony of the 2010 FIFA World Cup. The second release was the worldwide studio album Love Letter, a classy and retro-minded affair issued only a couple months later.

After undergoing emergency throat surgery in July 2011, Kelly returned in June of 2012 with a memoir written with David Ritz -- Soulacoaster: The Diary of Me -- as well as Write Me Back, his 12th studio album. Just over a year later, he had another new album ready to go. Black Panties, released in December 2013, saw him ditch the retro inspirations of Love Letter and Write Me Back for an update of his sexually explicit contemporary mode. The Buffet, issued two years later, became his tenth number one R&B album. His first holiday release, 12 Nights of Christmas, followed in 2016. ~ Stephen Thomas Erlewine & Steve Huey
HOMETOWN

Chicago, IL

GENRE

BORN

January 8, 1967