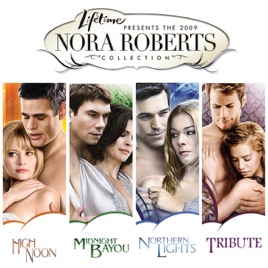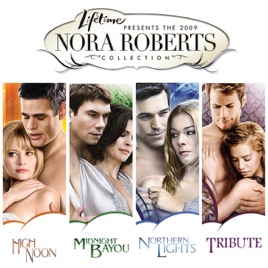 Description
The Nora Roberts 2009 Collection offers four all new movies overflowing with romance, mystery, heartache and passion starring favorites like Brittany Murphy, Jason Lewis, Leann Rimes, Jerry O'Connell and Faye Dunaway. Plus download the free interview with Nora Roberts! Buy a season pass to get each movie as soon as it is available on iTunes, one new movie per week.

Nora Roberts' High Noon starring Emilie de Ravin, Ivan Sergei and Cybill Shepard tells the story of a hostage negotiator who is tested when a stalker focuses his attentions on her.

Nora Roberts' Midnight Bayou starring Jerry O'Connel, Lauren Stamile and Faye Dunaway follows a lawyer who moves into a New Orleans mansion and finds himself caught up in a Southern Gothic mystery that could threaten his life and the lives of those he loves.

Nora Roberts' Northern Lights starring LeAnn Rimes, Roseanna Arquette and Eddie Cibrian in the tale of a former police officer who finds himself in the middle of a murder investigation when his new girlfriend's father is found dead.

Nora Roberts' Tribute starring Brittany Murphy and Jason Lewis is the story of a former child star who finds comfort in the arms of her handsome neighbor when she is haunted by dreams of her long-dead grandmother.

© 2009 Lifetime Entertainment Services