Mosaic & Blur photo editor
De VIDEA Inc.
Esta app solo está disponible en App Store para dispositivos iOS.
Descripción
"Mosaic & Blur" face exchanging application
Why don't you use "Mosaic & Blur", which makes your SNS unique?
Master piece of mosaic and blurs appreciation!
6types of art filter, 96 retouch combinations. Changing screen size, protecting privacy function!
6types of art filter are Blur, Mosaic, color Mosaic, strip, gray animal and geometric, Please try this variable Mosaic and blur. It's also good for protecting privacy!
Photo shooting is selectable from square size and whole display size depends on your usages like SNS. You can save picture inside this Mosaic and blur app
. So, you can it get immediately to retouch like art, to which you have already previously retouched.
Parts of the face, vehicle number plate, name and privacy information. These can be safely shareable by using blur. Protect your families, friends, lover's privacy with this.

■ Possible to retouch immediately after photo shooting
Just with one tap, photo mode and retouch model is easily exchanged. Changing front/ back camera is also so easy.

■ Post SNS your retouched pictures easily
Retouched pictures can be posted to SNS immediately from this app.
It adapts to Facebook, LINE, Twitter, Instagram, Tumblr. Connection to PicsArt, MediBand etc., editor appreciation is smooth.

■ Square / full screen mode
We have 2 photo shooting modes. Square and full screen mode. Square mode is suitable for instagram.

■ Combinations are 96 types! A lot of art filter.
Mosaic & blur has 6types of art filter as Blur, Mosaic, color Mosaic, strip, gray animal and geometric. Make your picture unique!

-Blur
It looks like out-of-focus. By making background out of focus, it becomes like professional.
-Mosaic
It becomes dot with related color of picture. You can make dot from small one to big one freely.
-Color mosaic
Color mosaic is convenient when you have a part where you would like to erase.

-Strip
The taste become like white-black masking tape, or screen tone. Use for protecting privacy.

-Gray animal
Masking tape and screen tone like stripe is fashionable to use. If it's a fine pattern, white looks good and if you make it a big pattern, gray looks good.

-Geometric
It becomes like a stained glass. With a fine pattern, it's a bit different from blur and becomes fantastic atmosphere.

■ Enlarge and can retouch finely
Can enlarge and shrink just by fingers pinch out / in.

■ Make composite pictures as natural finish
Enlarge and shrink function. Enlarge picture and blur boundary with thin line, you can create a highly natural picture.

■ Make artistic images
With the combination of 6 types of 96 kinds of art filters create an interesting effect!

■Usable for privacy protection!

Sometimes, personal information which could be specified is inside when taking a picture. Then, use art filter. Art filter of color mosaic, strip and gray animal is possible to delete totally what you don't need. It's recommended to use this filter for license plate and address. When posting SNS, sharing picture with your and friends, this is recommended.

■ Make beautiful skin photos
It's easy to make beautiful skin photos. If you have a blur art filter, you can erase necessary part of your skin, even for your non cosmetic salfi.

■ Choose favorite picture for your home screen
You can save your favorite picture for your home screen of this mosaic & blur application.

■ Save & call within the application
No need for searching pictures from the large amount of camera roll. At once, you can get the picture when you want to have additional retouch, which you have taken or retouched before.

■ Use with famous face exchange app. (like face swap)

If you use the face exchange application together, you can make fanny picture.
With this mosaic & blur application, it's much natural and funny by blurring unnatural part and surrounding with color mosaic.

Use in various scenes with your family, friends, lovers!
SNS posting and photo sharing will be much easier with this mosaic & blur app. Enjoy all
Novedades de la versión 1.6
bug fix.
Capturas de pantalla del iPhone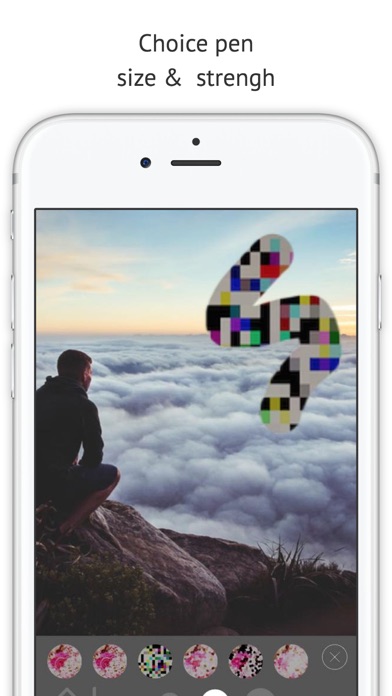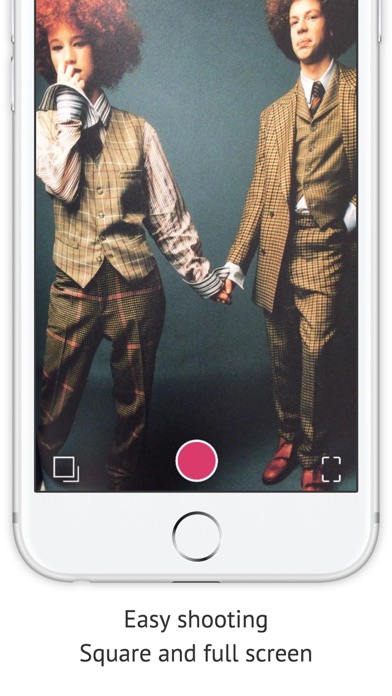 Ver en iTunes
Gratis

Categoría:

Fotografía y video

Actualizado :

26/09/2017

Versión:

1.6

Tamaño:

24.1 MB

Idiomas:

Español, Alemán, Catalán, Checo, Chino simplificado, Chino tradicional, Coreano, Danés, Eslovaco, Finés, Francés, Griego, Hebreo, Húngaro, Indonesio, Inglés, Italiano, Japonés, Malayo, Neerlandés, Noruego bokmål, Polaco, Portugués, Rumano, Ruso, Sueco, Tailandés, Turco, Ucraniano, Vietnamita, Árabe

Vendedor:

VIDEA Inc.
Compatibilidad: Requiere iOS 9.0 o posterior. Compatible con iPhone, iPad y iPod touch.
Más Apps para iPhone de VIDEA Inc.