Calculator + Currency Converter Scientific HiCalc
By PPCLINK Software
Open iTunes to buy and download apps.
Description
► Award Winning Calculator since 2007
► Over 1,000,000 users worldwide
► 800+ formulas in Formula Toolkit In-App

HiCalc - Calculator for iPad free will make all your calculations become simpler than ever.

► Noteworthy
• RETINA ready!
• New! Biorhythm calculator 
• Support three calculating modes: STANDARD, STRING and RPN
• Support precision to 31 digits
• Supports Complex numbers in STRING mode
• Powerful scientific calc with advanced fx: Differential, Evaluation, Integration, Product, Root-Finder…
• Support Extended Memory for deep calculation
• Expression history up to 135 items
• Sending data from Ext-Memory & History list
• Copy & Paste support
• Intuitive interface & No ADs

► Features:

• Multi-line LED-Calculator
• Smart input which allows input of complicated expressions
• Show expression as normal writing mode @ very useful for students
• Supports both USA and EUROPEAN styles for date and numeric separator
• Advanced RPN mode with Stack viewer and functions: DROP, SWAP, ROLL, DEPTH, PICK, OVER, KEEP, LAST, CLEAR

► Scientific calculator: sin, cos, tan, deg/rad/grad, Pi, sin-1, cos-1, tan-1, sinh, cosh, tanh, log, ln, sinh-1, cosh-1, tanh-1, Dec->Deg, Deg->Dec, XY->R, Random, nPr, nCr, Differential function, Evaluation function, Integration function, Root-Finder and Product function, Greatest Common Divisor, Least Common Multiple, Fibonacci function...

► Tip calculator
Easy & funny to use.

► Biorhythm calculator
How are you today? How is your health factor this week, next month, next year? Biorhythm calculator will show you health factors as : physical, intellectual, intuitional and also emotional factor.

► Constants Library
The Constants Library includes 1500 constants from Mathematics, Physics, Solar System and Element e.g: Avogadro number, Faraday const, Coulomb const, Gravitational const, Stefan-Boltzmann Const, Speed of Light, Euler constant...

► Necessary functions for your popular daily calculation:
• Currency Converter
• Unit Converter
• Date - Time
• Finance

► Engineering & Finalcial Calculator:
• Graph
• Statistics
• Equation Solver
• Finance
• Base Conversion
What's New in Version 2.8
Thanks for using Calculator of PPCLINK. We hope that you are having great experience with our application. In this new version, we have these following features:
- Update new UI design
- Fix some bugs and improve app performance.
In case you have any feedbacks, please write an email to support@ppclink.com! Thank you so much!
iPad Screenshots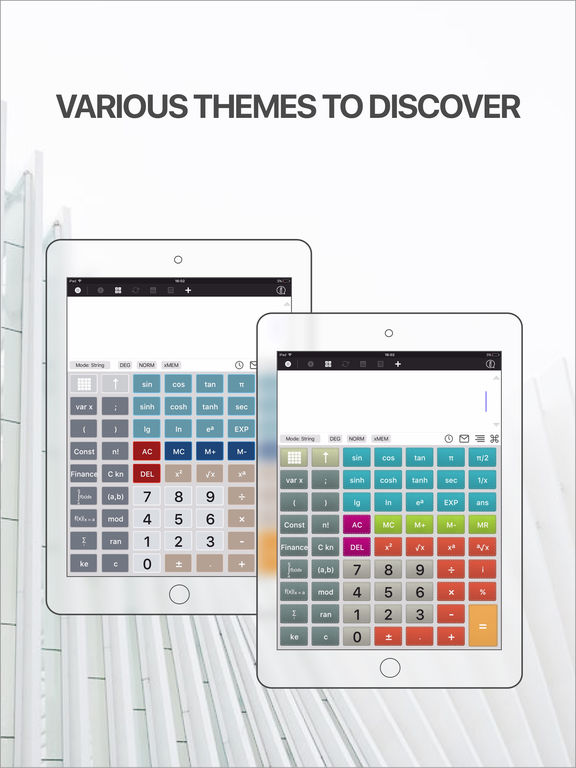 View in iTunes
Free

Category:

Utilities

Updated:

24 May 2017

Version:

2.8

Size:

54.0 MB

Language:

English

Developer:

CAT VIET SOFTWARE DEVELOPMENT & MEDIA JSC
Compatibility: Requires iOS 7.0 or later. Compatible with iPad.
Top In-App Purchases
"Unlock All features"69.000đ
Daily Calculating45.000đ
Engineering & Financial Calculator45.000đ
Formula Toolkit22.000đ
"Joyful skins"22.000đ