imo-Navi
By G&G Service
This app is only available on the App Store for iOS devices.
Description
[ What is the iMO service? / 아이모 서비스란? / アイモサービスとは? ]
iMO is a service that uses the iPad's digital space to foster the relationship between children and mothers, mothers and their friends and among family members, allowing them to play together and experience love, IT and a new learning environment.

iPad를 이용한 디지털 공간에서 아이와 부모, 친구들, 가족과 가족이 함께 어울려서 웃고 즐기며, 가족간의 사랑도, IT에대한 친밀감도 키울 수 있는 서비스입니다.

iPadを使ったデジタル空間にてコドモとママ、ママ友達、家族と家族が触れ合いながら、一緒に遊びながら、愛も、ITも、学ぶこともできるサービスです。

[ What can you do with the iMo service? / iMo서비스에서 무엇을 할 수 있을까요? /iMoサービスでできることは? ]
①Enjoy picture books!
Look, touch, enjoy...this is a service for children where you can download and enjoy free picture books to help with studying. Dive into these picture books with a form of free expression not found in regular books, and allow your children to learn Japanese naturally as well as study native level English and Korean.

①동화를 즐겨보자!
보고, 만지고, 즐길 수 있는, 도움이 되는 동화를 무료로 다운로드 하여 즐길 수 있으며, 서적으로는 맛 볼 수 없는 자유로운 표현력으로 제작된 동화 속으로 들어가, 자연스럽게 국어 공부도 되며, 나아가 네이티브 영어, 네이티브 일본어도 어려서 부터 접할 수 있는 어린이를 위한 서비스입니다.

①絵本をたのしもう!
見て、触って、楽しめる、勉強になる絵本を無料でダウンロードして楽しむことができ、本では味わえない自由な表現力を持つ絵本のなかに入り、自然に日本語の勉強もでき、さらにネイティブ英語、韓国語の勉強にもなるコドモのためのサービスです。

② Increase children's intelligence with creative stimulation and games!
This is a fun service for children that develops both right and left sides of the brain through programs such as Postcard Creation," to increase vocabulary and writing ability, "Puzzle Games," a fun way to develop logical thinking, and "Painting," an enjoyable method to improve sensitivity and artistic expression.

②자유로운 조작과 엑티비티한 게임으로 어린이의 지능 향상!
「엽서 작성하기」를 즐기면서 어휘&작문력을 향상,「퍼즐 게임」을 즐기면서 논리적지능을 향상,「그림 그리기」를 즐기면서 감수성&예술적 감각을 향상, 즐기면서 좌뇌, 우뇌를 골고루 발달시킬 수 있는 서비스입니다.

②自由な操作とゲームでコドモの知能を向上!
「ポストカード作り」を楽しみながら言語力&作文力をUp、「パズルゲーム」を楽しみながら論理的知能をUp、「ペインティング」を楽しみながら感受性&芸術性をUp、楽しみながら左脳、右脳を両方発達させるサービスです。

③ Listen to me, look at this, there is a lot I want to tell you!
This is a service that supports the community of parents who are raising children with programs like "Painting," where parents can show pictures drawn by their children, or by creating a Cafe (Topic) where parents can freely decide and discuss a topic among other friends, mothers and fathers. With Cafe, anybody can create and join discussions on helpful topics such as recycling information, resource sharing (Share) and information on child-rearing.

③들어봐, 여기 봐봐, 모두 함께 수다떨자!
자세한 내용은 아이모서비스 홈페이지 참조 [www.imo-service.com]

③聞いて~、見て~、いろいろ話したい!
詳しい内容は、アイモホームページへ。[www.imo-service.com]
What's New in Version 1.1
Add new picture books and colors of painting function, the view for community service.
Modification of the sending function for Postcard in mail and etc.
iPad Screenshots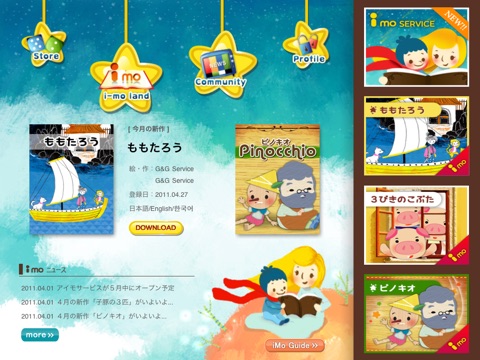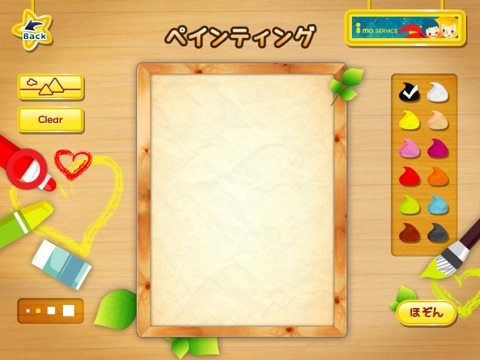 View in iTunes
Free

Category:

Education

Updated:

16 August 2011

Version:

1.1

Size:

35.2 MB

Languages:

English, Japanese, Korean

Developer:

G&G SERVICE Corporation
Compatibility: Requires iOS 3.2 or later. Compatible with iPad.